A game-changing idea to fight climate change won this year's Tax Policy Charitable Trust Scholarship.
Each year, the Tax Policy Charitable Trust (supported by TMNZ) awards a scholarship to celebrate the brightest young minds in the industry, and 2022's submissions were as inspirational as ever.
Entrants were invited to submit ideas that could transform New Zealand's tax landscape, looking at either environmental taxation, tax administration, or the powers granted to the Commissioner of Inland Revenue to collect information.
The competition, open to people aged 35 and under, generated progressive and innovative ideas from the industry's young leaders. In the end, one entrant was selected as this year's winner for her outstanding approach to New Zealand's tax and environmental challenges.
And the winner is….
Vivien Lei, Group Tax Advisor at Fisher & Paykel Healthcare, won this year's scholarship for her submission to introduce Impact Weighted Taxation in New Zealand, an innovative idea that would see businesses pay taxes based on their environmental impact.
A panel of leading industry professionals judged Lei's proposal as the winner among a strong field of candidates. Mitchell Fraser, Daniel Doughty, and Jordan Yates were also celebrated as finalists in the competition.
Lei was crowned the winner at the Tax Policy Charitable Trust's finals evening on October 19, after each finalist presented their idea to an audience of industry professionals.
Trust Chair John Shewan said the judges were "delighted to see passion and energy behind the submissions and supporting presentations".
Lei, who received a $10,000 cash prize, described the competition as "an amazing experience".
"You don't often get many opportunities to think creatively about tax policy, so this was a nice space to do that," Lei says. "Being able to develop my policy thinking and talk to some of the leading experts was really great — and winning was a huge surprise!"
This year was Lei's second attempt to win the scholarship following an earlier submission in 2019. Her perseverance and positive attitude paid off.
"I entered when I was still very green in my career," she says. "Since then, I've been mentored by amazing people who have helped with my development, particularly Rachael Bull, Head of Tax at Fisher & Paykel Healthcare, and Joseph Chueh who fostered my interest in tax policy. I was grateful to have their support this time around."
Tax to fight the climate threat
Lei's background in the social impact sector and personal concerns about the environment informed her submission idea.
"These are the most difficult problems of our time," she says. "I'm hoping my idea will bring the conversation to the fore and spark other young minds in our industry to think about how tax might influence positive environmental outcomes."
The Tax Policy Scholarship Competition is proudly supported by TMNZ, which invests 100% of its profits back into the environment and community, through strategic philanthropic partner, Whakatupu Aotearoa Foundation. Lei believes that tax professionals can help to build a better future for Aotearoa.
"It's scary to think about the trajectory we are on with our natural capital, so it's important for our industry to think of ways to help," she adds.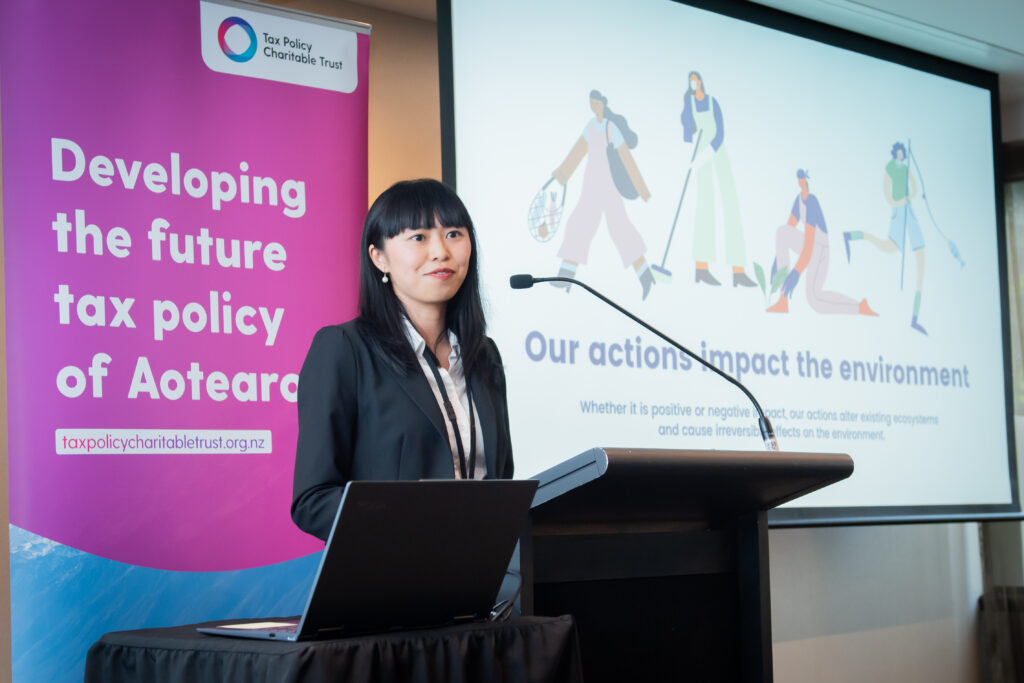 Inspiring future tax leaders
Tax Policy Scholarship Competition Judges commented that this year's entrants will inspire future generations as well as today's professionals.
"This competition is all about supporting and inspiring future tax policy leaders. The results from this year and from earlier years' competitions reflect the presence of emerging talent that will ensure the continuation of leading tax policy research and thinking in New Zealand," said the judges.
Find out more about the Tax Policy Scholarship Competition here.
To see Vivien's full submission, click here.